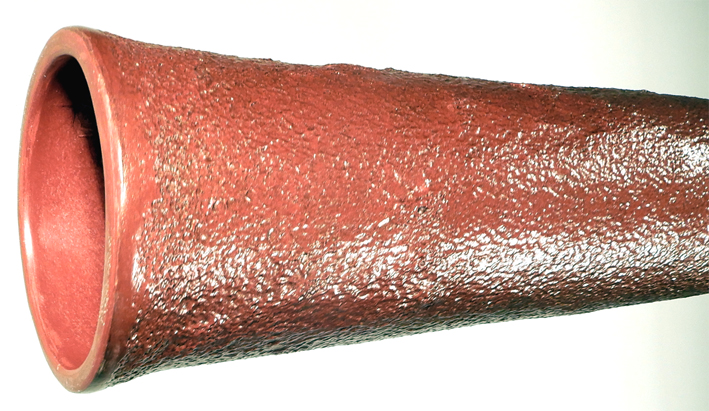 Didgeridoo Dg 571
ist ein konisches suboktavisches Instrument mit dem Basiston auf D2 mit Stimmlage auf Kammerton A4= 440Hz. Das Didgeridoo hat einen guten Resonanzwiderstand am Grundton und bietet 3 gut ansprechende Overblows.
Es ist eines der neuen mit Examiner modellierten Instrumente mit dem Ziel eine Tonfolge DCG#D zu erreichen, das bei der Trocknung hier allerdings auf interessante DBnGD# mutiert ist. Es sind 5,4 cm Stimmzone verblieben, die ich nicht weiter zu kŸrzen wagte um nicht den Grundton aus der Stimmlage D2 zu bringen.
Mit dem 30mm MundstŸck mit einer WandstŠrke von 5mm und der konischen Form erlaubt es ein rasches Anschwingen und dadurch auch ein schnelles Movement fŸr schnelles rhythmisches Spiel.
Die einer Rinde Šhnliche dunkelbraune OberflŠche ist durch Materialauftrag einer tiefer liegenden Ÿberdeckten gelben Schichte stark strukturiert. ZusŠtzlich zeigt es die Struktur des gebŸrsteten fŸr Hempstone typischen SprŸhbildes. Die Struktur ist mit schwarzem Eisenoxid kontrastiert. Das Material ist mit Siena, Ocker und Umbra gefŠrbt, innen mit wasserbestŠndigem Legnopur von Adler und aussen mit Ÿberlackierbarem Zelluloselack Soloplast beschichtet.
Die Messung der Tonhšhen bei warmgespielten Instrument und Raumtemperatur ergaben:
Basiston D2 (C bis D2+40) / 1. Overblow Bn2 (Bn2-20 bis Bn2+50) / 2. Overblow G3 (+- 20) / 3. Overblow D# +30
(Die Werte in Klammer zeigen die Bereiche in Cent in welchen sich die Hšhe der angespielten Tšne durch €nderung der Lippenspannung verŠndern lassen. Das entspricht etwa der von der Bauart abhŠngigen Bandbreite des jeweiligen Resonanzwiderstandes.)
Didgeridoo Dg 571
is a conical sub-octavian instrument with the base tone at D2 with concert pitch A4 = 440Hz. The didgeridoo has a good resonance resistance on the fundamental note and offers 3 well-appealing overblows.
It is one of the new instruments modeled with Examiner with the aim of achieving a tone sequence DCG#D, which, however, mutated to an interesting DBnGD# during drying. There are 5.4 cm of tuning zone remaining, which I didn't dare to shorten any further so as not to take the fundamental note out of the D2 vocal range.
With the 30mm mouthpiece with a wall thickness of 5mm and the conical shape, it allows for quick swinging and therefore quick movement for fast rhythmic playing.
The dark brown surface, which is similar to bark, is strongly structured by the application of a deeper, covered yellow layer. In addition, it shows the structure of the brushed spray pattern typical of Hempstone. The structure is contrasted with black iron oxide. The material is colored with sienna, ocher and umber, coated on the inside with water-resistant Legnopur from Adler and on the outside with paintable Soloplast cellulose varnish.
Measuring the pitches when the instrument was played warm and at room temperature showed:
Base tone D2 (C to D2+40) / 1. Overblow Bn2 (Bn2-20 to Bn2+50) / 2. Overblow G3 (+- 20) / 3. Overblow D# +30
(The values in brackets show the ranges in cents in which the pitch of the tones played can be changed by changing the lip tension. This corresponds approximately to the bandwidth of the respective resonance resistance, which depends on the design.)
Dg 571 Soundsample 01 will follow
Price: 852.- Euro incl 20% turnover tax.