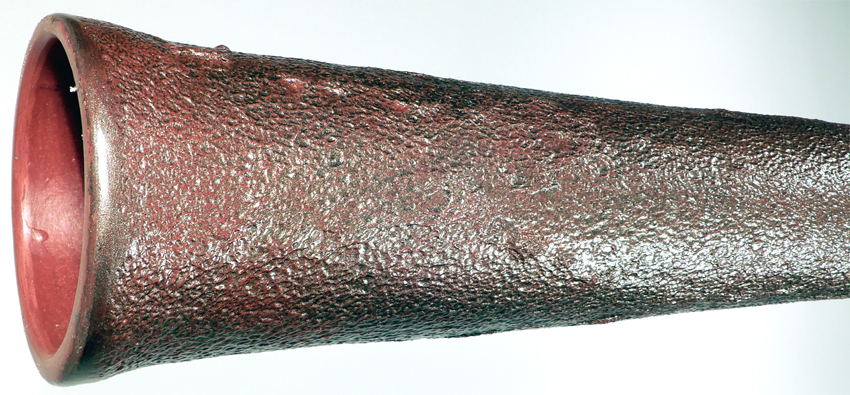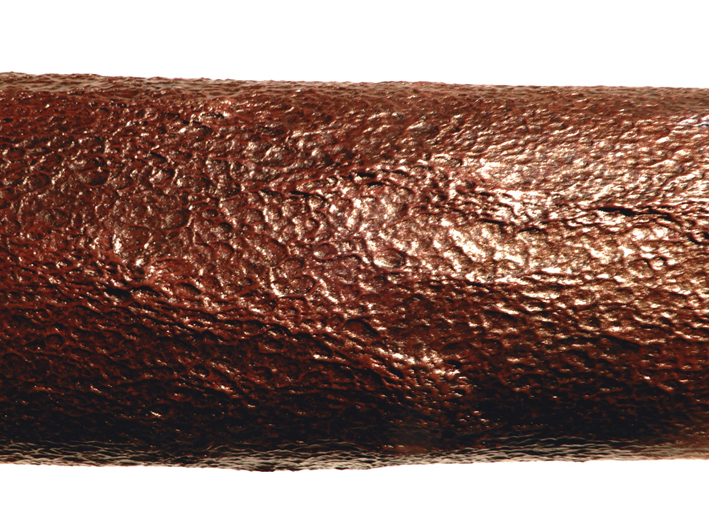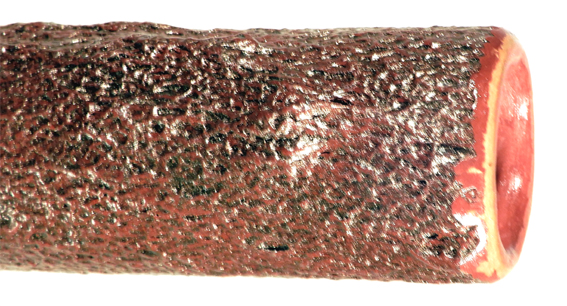 Didgeridoo Dg 569
ist ein kein Instrument fŸr AnfŠnger. Es ist eines der neuen mit Examiner modellierten Instrumente mit Tonfolge GDAD in extremen Tonbereichen. Die breite Resonanzkammer mit ein wenig Verengung vor dem Bell erzeugt eine Stimmlage auf dem tiefen G1 bei einer akzeptablen LŠnge des Instrumentes.
Dabei entwickelt sich eine besondere Eigenschaft. Es entsteht ein tiefer ruhiger meditativer Grundton der nur mŠ§igen Resonanzwiderstand bietet. Die Overblows liegen weit entfern von diesem Grundton, der erste auf D3.
Mit 3kg ist das Instrument relativ schwer, das hilft dem sehr tiefen Ton eine StabilitŠt zu geben. Schnelle Wechsel sind nur auf den Overblows mšglich, das tiefe G1 hat einen ruhigen und meditativen Charakter, lŠ§t aber Obertšne gut hšrbar modulieren.Der Basiston ist G1, mit einem Kammerton Basis A4= 440 Hz gestimmt.
Die einer Rinde Šhnliche dunkelbraune OberflŠche ist durch Materialauftrag einer tiefer liegenden gelben Schichte stark strukturiert. ZusŠtzlich zeigt es die Struktur des gebŸrsteten fŸr Hempstone typischen SprŸhbildes. Die Struktur ist mit schwarzem Eisenoxid kontrastiert. Das Didgeridoo ist innen mit wasserbestŠndigem Legnopur von Adler und aussen mit Ÿberlackierbarem Zelluloselack Soloplast beschichtet.
Die Messung der Tonhšhen bei warmgespielten Instrument und Raumtemperatur ergaben:
Basiston G1 (F#1+20 bis G1+20) / 1. Overblow D3-10 (-20 bis +-0) / 2. Overblow A3 (-20 bis +-0) / 3. Overblow D4+20 / 4. Overblow etwa F#4
(Die Werte in Klammer zeigen die Bereiche in Cent in welchen sich die Hšhe der angespielten Tšne durch €nderung der Lippenspannung verŠndern lassen. Das entspricht etwa der von der Bauart abhŠngigen Bandbreite des jeweiligen Resonanzwiderstandes.)
Didgeridoo Dg 569
is not an instrument for beginners. It is one of the new instruments modeled with Examiner with tone sequence GDAD in extreme tonal ranges. The wide resonance chamber with a little narrowing in front of the bell creates a pitch on the low G1 with an acceptable length of the instrument.
A special property develops. The result is a deep, calm meditative basic tone that only offers moderate resonance resistance. The overblows are far away from this root note, the first on D3.
At 3kg, the instrument is relatively heavy, which helps to give stability to the very deep G1. Quick changes are only possible on the overblows; the low G1 has a calm and meditative character, but allows overtones to be modulated in a clearly audible manner. The base tone is G1, tuned with a concert pitch base A4 = 440 Hz.
The dark brown surface, which is similar to bark, is strongly structured by the application of a deeper yellow layer. In addition, it shows the structure of the brushed spray pattern typical of Hempstone. The structure is contrasted with black iron oxide. The didgeridoo is coated on the inside with water-resistant Legnopur from Adler and on the outside with paintable Soloplast cellulose varnish.
Measuring the pitches when the instrument was warm and at room temperature showed:
Base tone G1 (F#1+20 to G1+20) / 1. Overblow D3-10 (-20 to +-0) / 2. Overblow A3 (-20 to +-0) / 3. Overblow D4+20 / 4 .Overblow about F#4
(The values in brackets show the areas in cent in which the pitch of the tones played can be changed by changing the lip tension. This corresponds approximately to the bandwidth of the respective resonance resistance, which depends on the design.)
Dg 569 Soundsample 01 will follow
Price: 936.- Euro incl 20% turnover tax.