As producer of music instruments made of renewable raw materials
we also specialised in growing and breeding Rhizomes of Miscanthus.
Many thanks for all customers from 2015, we wish much success with the plantation.
High quality rhizomes are available again from March 2016,
from young vital Plantation in Burgenland, Austria.
Please contact us bevore end of year for bigger amount orders,
it help us to plan the harvest well, that we can deliver your order in time.
Chopped Miscanthus is a pertfect mulch for gardens
or litter for animals and is further available
packed in 120 liters bags.


Miscanthus sinensis x giganteus,
also known as Elephant grass
| | |
| --- | --- |
| Rhizom harvest in 2012 | Young shoot tips Miscanthus in early summer |
Miscanthus serves as optimal agricultural plant for the production of biomass.
It is very well suited as a wild animal cover and hedges,
solitary or as ornamental planting.
Miscanthus offers good wind protection and privacy in gardens and parks.
It spreads very slowly from circular, does not form tunneling rhizomes such as bamboo,
and therefore requires no additional root barriers in the garden.
Chopped Miscanthus
approximately 3 cm long

Young shoot tips Miscanthus in Mai
The chopped material of the dry stalks can be used for heating,
insulation and as building material as well as animal bedding.
As a mulch it reduces snails and weed infestation.
In the vegetable garden the stalks can be used as planting support:
For example in case of tomatoe plants:
If you tie up 3-4 plants in a pyramidal way the binding strings
do not slip off and they adhere well to the nods of the stalks.

We deliver stalks and chopped straw as mulch in 120 l bags for Euro 5.-.
Grow miscanthus!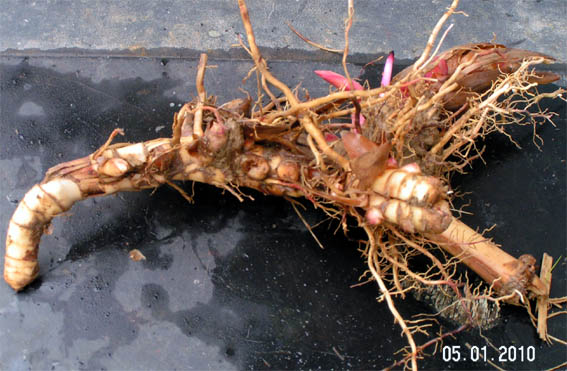 We supply large vital rhizomes from our young plantation
at particularly favorable conditions
Digging rhizome blocks with modified
rotary cultivator

digging and proofing the limbered blocks
You can also order rhizome blocks with 5 to 10 kg weight or more.
These will grow more quickly into large blocks.

Ask for the price of your required quantity,
we offer detailed advice by phone or email.
Contact us
by phone 0043 660 9433282
or by email office@drumparam.at

Miscanthus can change a lot!
Miscanthus proves as hedge or privacy screen,
is suitable as a decorative plant in parks
and shows more and more popularity as an ornamental plant in gardens.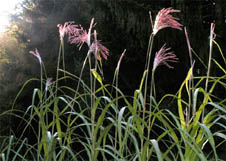 The increasing demand for biomass for the purpose of energy production,
as raw material, building material, mulch and litter material
opens farmers an additional and future-oriented source of income.

As a C4 plant such as millet, sugar cane, maize, amaranth, etc.
Miscanthus is forming a maximum of biomass per area.
Benefits for people, the environment,
soils and animals Miscanthus is one of the most environmentally friendly options
for biomass production with minimal effort for the care
and minimum impact on soil and environment.
The large amount of rhizomes, roots and leaves
enriches the soil with biomass and forms an additional carbon sink.
In the long term this means a huge improvement in soil quality
due to the formation of humus.
Miscanthus is pulling out silicate.
It grows well in humus-rich soils with lower nitrate content
and only needs some Kalium after a few years.
In a temperate climate with sufficient rainfall (> 700 mm / year )
where corn grows well , it makes up to 20 tons of biomass (TM ) per hectare per year .
But even in the cooler highlands (for example Waldviertel in Austria ) plantations could get established which will produce acceptable harvest volume.
With agricultural chemistry enriched soils are detoxified by planting Miscanthus.
Their nitrate content is lowered in a longer term.
No other nitrates or other toxins are released into ground and groundwater.
Animals whose habitat is being increasingly displaced
will find numerous nesting and storage bins
during the whole vegetation period in the plantations.
After the harvest in February or early March no more machining is required
on the plantation until the next harvest in the late winter.
| | |
| --- | --- |
| | Exhibition at Arche Noah garden barter market |
| | |
Currently there are no known pests that could be dangerous
for an established Miscanthus plantation or that would necessitate
the use of agricultural chemicals.
While planting young single rhizomes very rarely some types of Click beetle
(Elateridae) can be a problem for the Miscanthus"eyes":
Their larvae ("wireworm") like to eat the young shoot buds of the rhizomes.

This can be but try out quite well by attracting the larvae before planting.
Compared to the few, now technically dominant disadvantages
of low bulk density of chopped material ( Remedy: briquetting, big bales )
and the tendency to slagging in furnaces
(Remedy: low tempered glowing bed, modified combustion plants, shaker grate, etc.)
the advantages mentioned before run far in excess .
For the planting of long term income producing areas (> 20 years)
in spring single rhizomes are planted, which serve as energy storage for the whole plant.
For quick growing processes whole Miscanthus blocks can be planted.
Tips and Information:
It is reported about planting trials in combination with corn.
The rapidly growing corn plant is shading weeds
and thus provides faster nursery to Miscanthus.
This promising approach we have not been verified in our fields.
Experiment yourself and find out more about this special plant!
An interesting additional aspect could be the capture of CO2
from the air in form of charcoal with the help of Miscanthus biomass
("bio char coal projects " ).
By that way " Terra preta " would contribute actively to improve the soil
(see Terra preta in Wikipedia) .
These industrial CO2 emissions would have to get higher economic value.
At present, the prices of certificates have been sunk into
the basement by industrial lobbying.
(see "terra preta" in Wikipedia).
You will find detailed knowledge about Miscanthus giganteus
on the homepage of Prof Dr Ralf Pude, University of Bonn: www.miscanthus.de

Prof. Dr. Ralf Pude has gained reputation as pioneer in the field of miscanthus.
With his research and international conventions
he has helped significantly for the distribution of the plant within Europe.
Informations about amount, prizes and special offers:

Kontakt
email to hempstone@hempstone.at
or office@drumparam.at
phone 0043 (0)660 9433282.
Be innovative,
the production of biomass will generate a
new branch of income for farmers in future.

Miscanthus will be also an rentable alternative for small farms to survive and to continue with
less work and effort, only harvesting and selling for many years after plantation.
Contact us to know more about
Informations about amount, prizes and special offers:
Contact email to hempstone@hempstone.at
or office@drumparam.at
phone: 0043 (0)660 9433282.
Traders and partners DrumParam is authorised trader of Schlagwerk-Percussion.
Read about Shea butter as a care product.

Read about Miscanthus x giganteus as a natural resource.